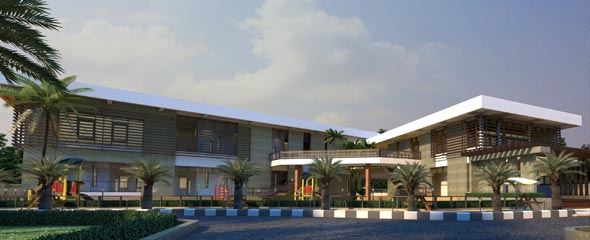 UDIS aims to provide top quality resources and facilities to provide the best learning and development environment for the students of our school..
Early Years Building
We have a purpose-built Early Years and lower primary campus which was completed in 2014. The building is developed around our indoor/outdoor learning concept so that learning is supported across all areas of the school in a safe and stimulating fashion. Buildings incorporate innovative environmental features in line with the school's goal of sustainability that include solar energy, cavity walls, day-lighting and airflow design.
Primary Campus
We plan to start construction of our full primary campus which will greatly expand the number of primary classrooms available and also dedicated learning spaces. This will provide exciting project space to support the use of inquiry learning for primary students.
Sporting Facilities
UDIS offers a variety of sporting facilities to support learning and physical development in students:
Junior swimming pool – To develop basic water and swimming skills
Multi-purpose court – Soccer, tennis, basketball and mini cricket
Walking/running paths – Landscaped paths around the school for running, walking and cycling
Early years playground – Multi-use outdoor space for early years and lower primary
Primary playground and field – Primary playground and grassed outdoor space
Gallery
View images of our school in our gallery here.